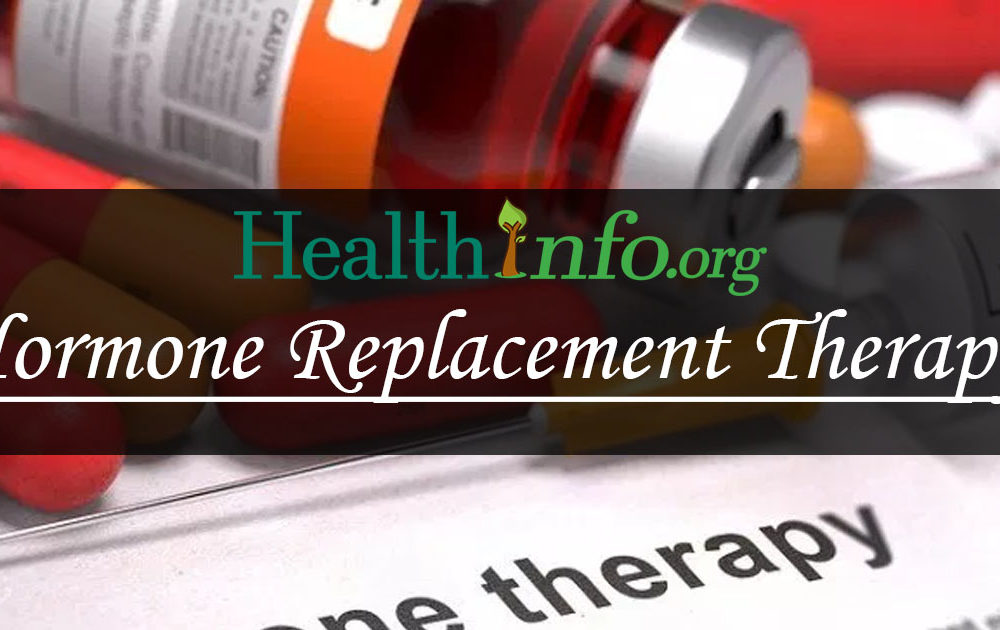 What is the purpose of hormone therapy?
Doctors sometimes prescribe hormones to replace those lost during menopause. This treatment, called Hormone Therapy (HT), can ease the symptoms of menopause and protect against osteoporosis. Although millions of women take HT, it may not be the right choice for everyone.
What are the side effects and risks of HT?
Side effects of HT include:
headaches,
nausea,
vaginal discharge,
fluid retention, and;
breast pain.
It is still controversial which of these side effects are due to the estrogen component as compared to the progesterone component. Therefore, if side effects persist for a few months, the doctor will often alter either the progesterone or the estrogen part of the HT.
HT increases the risk of vein clots in the legs (deep vein thrombosis) and blood clots in the lungs (pulmonary embolus) by about 2 or 3 fold. However, it is important to remember that these conditions are extremely rare in healthy women. Thus, the true increase in risk for healthy women is likely to be extremely minimal. Women with a personal or family history of these clots should take this issue into account when individualizing their HT decisions.
Contrary to common belief, recent research has confirmed that women who take commonly prescribed doses of HT are no more likely to gain weight than women not taking HT. This is probably because menopause itself is associated with weight gain.
Other health concerns for women undergoing HT include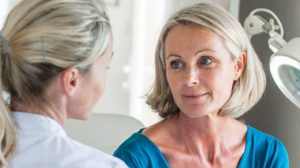 Cancer of the uterus (endometrial cancer): Research shows that women who have their uterus and use estrogen alone are at risk for endometrial cancer. Today, however, most doctors prescribe the combination of estrogen and progestin. Progestin protects against endometrial cancer. If there is some reason why a woman with a uterus cannot take some type of progesterone, her doctor will take sample tissue from her uterus (endometrial biopsy) to check for cancer every year. Women without a uterus (including women who have had a hysterectomy) have no risk of endometrial cancer.
Breast cancer: Many scientists are currently studying the possible association between HT and breast cancer (see above "Who should take HT"). Some studies have reported a link between HT and an increased risk of breast cancer. Scientists are still studying the breast cancer risks of taking estrogen alone or in combination with progestin over a long period of time. There is no increase in breast cancer risk with the use of HT for a duration of less than 5 years. Nevertheless because of the possibility of increased breast cancer risks, women who have no major menopause symptoms may choose to avoid HT. The effects of other types of HT (aside from the Women's Health Initiative types) on breast cancer risk are still unclear.
Heart disease: Even though HT lowers the bad LDL cholesterol and raises the good HDL cholesterol, HT may slightly increase the risk of heart attacks in women who already have heart disease. Women with known heart disease who are considering starting HT need to discuss this aspect with a physician in making an individualized decision. Women without known heart disease should no longer expect HT to prevent heart attack based on recent data from the Women's Health Initiative.
Abnormal vaginal bleeding: Women on HT are more likely than other postmenopausal women to experience abnormal vaginal bleeding. What is called "abnormal bleeding" depends on the type of HT. With cyclic therapy, in which monthly bleeding is expected, bleeding is abnormal if it occurs when it is not expected or is excessively heavy or long in duration. With daily continuous therapy, irregular bleeding can last for 6 months to a year, therefore, irregular bleeding that lasts for more than a year is considered abnormal. When abnormal bleeding occurs, a doctor usually takes a sample of the lining of the uterus to rule out an abnormality or cancer in the uterus. This procedure is usually done in the office. After the evaluation is done, if nothing is found to be wrong, HT doses will often be adjusted to minimize further abnormal bleeding.
How is HT prescribed?
Doctors usually prescribe HT as a combination of estrogen and another synthetic female hormone, progesterone. Synthetic progesterone compounds are referred to as progestins. Long term estrogen without progesterone increases the risk of uterine cancer, whereas addition of progesterone counteracts this risk. Therefore estrogen without progestin is usually only recommended for women who have had their uterus removed (hysterectomy). Estrogen is available as pills, tablets, vaginal creams, vaginal tablets, or vaginal rings. Estrogen or a combination of estrogen and progesterone are also available as skin patches. The choice of estrogen preparation recommended by the doctor depends on the women's symptoms. For instance, vaginal creams, vaginal tablets, and vaginal rings are used for vaginal dryness, while pills or patches are used to ease hot flashes and prevent bone loss. Estrogen pills are also useful for vaginal dryness and are sometimes used along with vaginal creams, tablets, or rings.
Although progestin is usually taken in pill form, it is also available, together with estrogen, in patch form.
Doctors may prescribe different schedules for taking HT. Every women's HT treatment and schedule should be individualized based on her particular situation. Below are some standard forms of HT that are used:
Pills (Oral Therapy)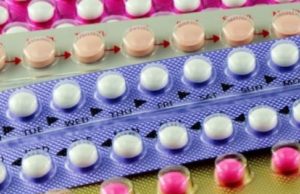 In order to avoid monthly vaginal bleeding, some women choose to take small doses of estrogen and progesterone together every day. This is called daily continuous therapy. Sometimes, daily continuous therapy can cause some irregular, unexpected vaginal bleeding for the first several months of treatment, especially in younger women entering menopause. For these women, and for some other women, planned cyclic bleeding is more acceptable. In these women, progesterone is usually added to estrogen for the first 12 calendar days of the month.
Patches (Transdermal Therapy)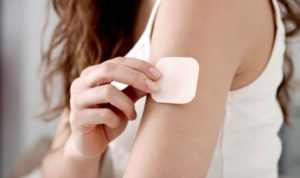 HT skin patches are to be worn on a continuous basis. Newer patches need to be changed once or twice per week. Combination estrogen/progesterone patches are available for women who have not undergone hysterectomy to prevent cancer of the uterus. Patches are as effective as oral HT in decreasing postmenopausal bone loss (bone loss that occurs subsequent to menopause) and for controlling hot flashes.
Vaginal Tablets or Creams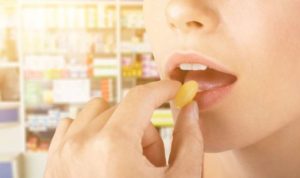 Estrogen vaginal tablets and creams are generally prescribed nightly for 2 weeks, and then reduced to twice per week as a long-term "maintenance therapy." There should be very little absorption of estrogen into the body with the use of vaginal preparations, and therefore they should be safe. But the long-term safety of vaginal estrogen rings, creams and tablets has not been clearly established.
Vaginal Rings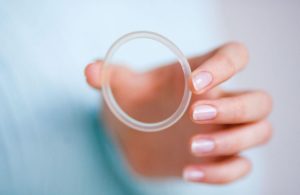 Vaginal estrogen rings are approved to treat genital and urinary dryness and irritation that can occur due to the lack of estrogen in women after menopause. They remain in place for 12 weeks, after which they can be changed by either the woman herself or her physician. The long-term safety of estrogen rings is not yet clear, but there is probably very little absorption of the hormone into the bloodstream with use of the vaginal estrogen ring (or cream).
Who should not take HT?
Contrary to common myth, women with high blood pressure that is controlled by medication can take HT because HT does not cause significant elevations in blood pressure. The only true medical reason for not taking HT is a personal medical history of breast cancer or uterus cancer. Women with abnormal vaginal bleeding should have an evaluation prior to embarking on HT to exclude the presence of cancer of the uterus. Similarly, routine mammograms and breast examinations are important to exclude the presence of breast cancer.
While HT may be used in women with migraines or liver disease, certain types of HT (often a patch or vaginal forms) may be chosen to try to avoid aggravating these conditions.
Women should not be taking HT to prevent heart disease, and should initiate HT only with caution if they already have been diagnosed with coronary artery disease (such as past heart attack), as HT may be increase the risk of heart attacks in these circumstances.
Who should take HT?
Women with hot flashes, especially when they are causing sleep disturbance, should take HT Estrogen given short-term is the most effective treatment for hot flashes, and outweighs potential risks.
Women with vaginal dryness or itching due to menopause. Oral pills, skin patches, or vaginal forms of estrogen can be used.
The 5 year results of the Women's Health Initiative, a large and very reliable new research study, showed a decrease in colon cancer risk in women taking HT (conjugated equine estrogens 0.625mg daily with medroxyprogesterone acetate 2.5mg daily) compared to a placebo sugar pill. This translates into 6 fewer colorectal cancer cases for every 10,000 women taking that particular combination of hormone therapy for 1 year. But the Food and Drug Administration has not approved HT for prevention of colon cancer.
Women who are at risk of, or have been diagnosed with, osteoporosis should take HT. Alternatively, they should talk to their doctors about non-estrogen medications such as alendronate (Fasomax), risedronate (Actonel) in treating and preventing osteoporosis.
Even though preliminary data suggests that HT may help prevent Alzheimer's disease, more research is needed to confirm these early findings. HT currently cannot be recommended as prevention for Alzheimer's disease.
Many experts believe that the benefits of oral HT may be greater than the potential risks over the short-term (5 years of use) in women with hot flashes, since breast cancer risk seems to increase only with 5 years or more of use. Before deciding about HT, women should discuss the possible benefits, risks, and side effects with their doctor.
What medical checkups are advised for women on HT?
All women receiving HT should undergo a medical checkup every year. At that time, the doctor or nurse will perform a breast exam and order a mammogram (a special x-ray picture of the breasts) to check for masses in the breasts that might possibly be cancer. At, or even prior to these check-ups, a woman should discuss her bleeding pattern with her physician to be sure it is within the expected pattern for her specific type of HT. Other routine screening evaluations may also be performed at this annual check-up.