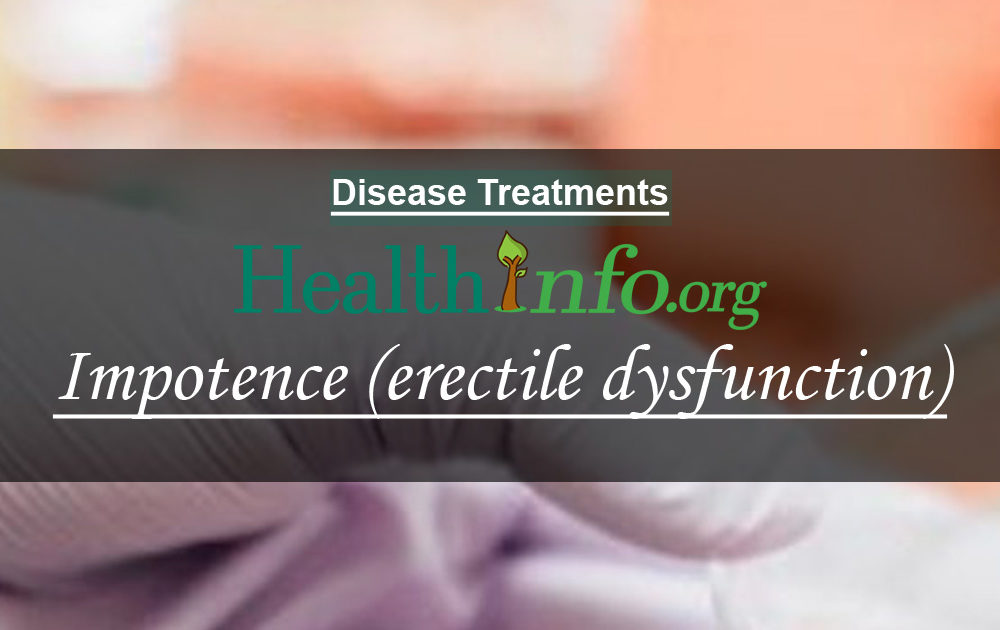 The term erectile dysfunction covers a range of disorders, including curvature of the penis during erection (Peyronie's disease), prolonged painful erection not associated with sexual desire (priapism) and premature ejaculation. But usually it refers to the inability to obtain an adequate erection for satisfactory sexual activity (impotence).
When erectile dysfunction proves to be a pattern or a persistent problem, however, it can interfere with a man's self-image as well as his sexual life. It may also be a sign of a physical or emotional problem that requires treatment.
Erectile dysfunction, formerly called impotence, was once a taboo subject. But attitudes are changing. More men are seeking help for the problem, and healthcare professionals are gaining a better understanding of what causes erectile dysfunction and are finding new and better ways to treat it such as acupuncture and herbal therapies.
Specific steps take place to produce and sustain an erection:
Arousal. The first step is sexual arousal, which men obtain from the senses of sight, touch, hearing and smell, and from thoughts.
Nervous system response. The brain communicates the sexual excitation to the body's nervous system, which activates increased blood flow to the penis.
Blood vessel response. A relaxing action occurs in the blood vessels that supply the penis, allowing more blood to flow into the shafts that produce the erection. If something affects any of these factors or the delicate balance among them, erectile dysfunction can result.
Nonphysical causes may account for impotence. They may include:
Psychological problems. The most common nonphysical causes are stress, anxiety and fatigue. Impotence is also an occasional side effect of psychological problems such as depression.
Negative feelings. Feelings that you express toward your sexual partner — or that are expressed by your sexual partner — such as resentment, hostility or lack of interest also can be a factor in erectile dysfunction.
Prevention
Although most men experience episodes of erectile dysfunction from time to time, you can take these steps to decrease the likelihood of occurrences:
Limit or avoid the use of alcohol and other similar drugs.
Stop smoking.
Exercise regularly.
Reduce stress.
Get enough sleep.
Deal with anxiety or depression.
See your doctor for regular checkups and medical screening tests.
Traditional Chinese Medicine & Acupuncture
Treatment for erectile dysfunction has been a successful part of Acupuncture and Chinese herbal medicine for hundreds of years. If you are experiencing any of the conditions related to erectile dysfunction traditional Chinese medicine and acupuncture can help. Private and confidential, male reproductive health with Spence Pentland.
TCM – Kidney disorder
Ming Men Fire deficiency
Kidney Yang and Essence deficiency, premature graying, poor memory, coldness, do not age well, incontinence
Acupuncture – tonify, Ren, Du, Moxa and needle, Ren 3, 4, SP 6, BL 23, Du 4
– seminal emission- Du 3
– dizziness- Du 20, GB 20
– post heaven Qi- ST 36
Kidney Qi injured by shock
shock during sex, or chronic Kidney Qi deficiency inducing fear, poor sleep
Acupuncture – Du 20, Si Shen Cong (calm spirit), HT 7, BL 23, Du 4, Ren 4, SP 6, PC 5 (ghost), GB 20
Low Jiao Damp/Heat
Acupuncture – Ren, foot Jueyin, LR 3 & GB 43 (purge LR GB Damp/Heat), SP 6, Ren 3, KI 10 (purge, diuresis)
– water metabolism- SP 9
– upper thigh Liver points- LR 10, 11, 12
Heart Spleen deficiency
fatigue, overwork, overstressed, palpitations, poor digestion, pale face
Acupuncture – BL 15, 20, LR 13, ST 36 & SP 6, Ren 4
palpitations- HT 7, PC 6, 7
Alternative Treatment Methods
*auricular– internal (Nei Sheng Zhi Qi) and external (Wai Sheng Zhi Qi) reproductive points, subcortex, endocrine, shenmen, *KI, LR, HT, SP
electrical– BL 23 & 32, Ren 3, 4, alternating frequency