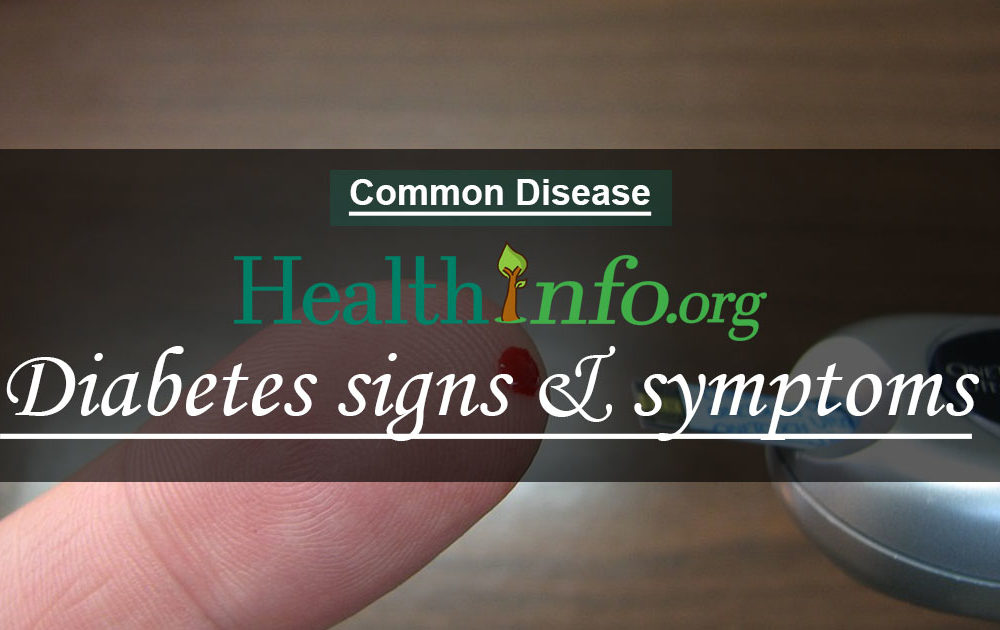 Signs and symptoms of diabetes
unusual thirst (polydipsia),
excessive hunger (polyphagia),
frequent urination (polyuria),
unusual weight loss (emaciation),
extreme fatigue or lack of energy,
blurred vision,
frequent or recurring infections,
cuts and bruises that are slow to heal,
tingling &/or numbness in hands &/or feet.
*** It is also quite important to understand that many people with type 2 diabetes may or may not display signs or symptoms. It is recommended to have routine screening every three years for everyone age 45 or over and screening every year for individuals with other risk factors.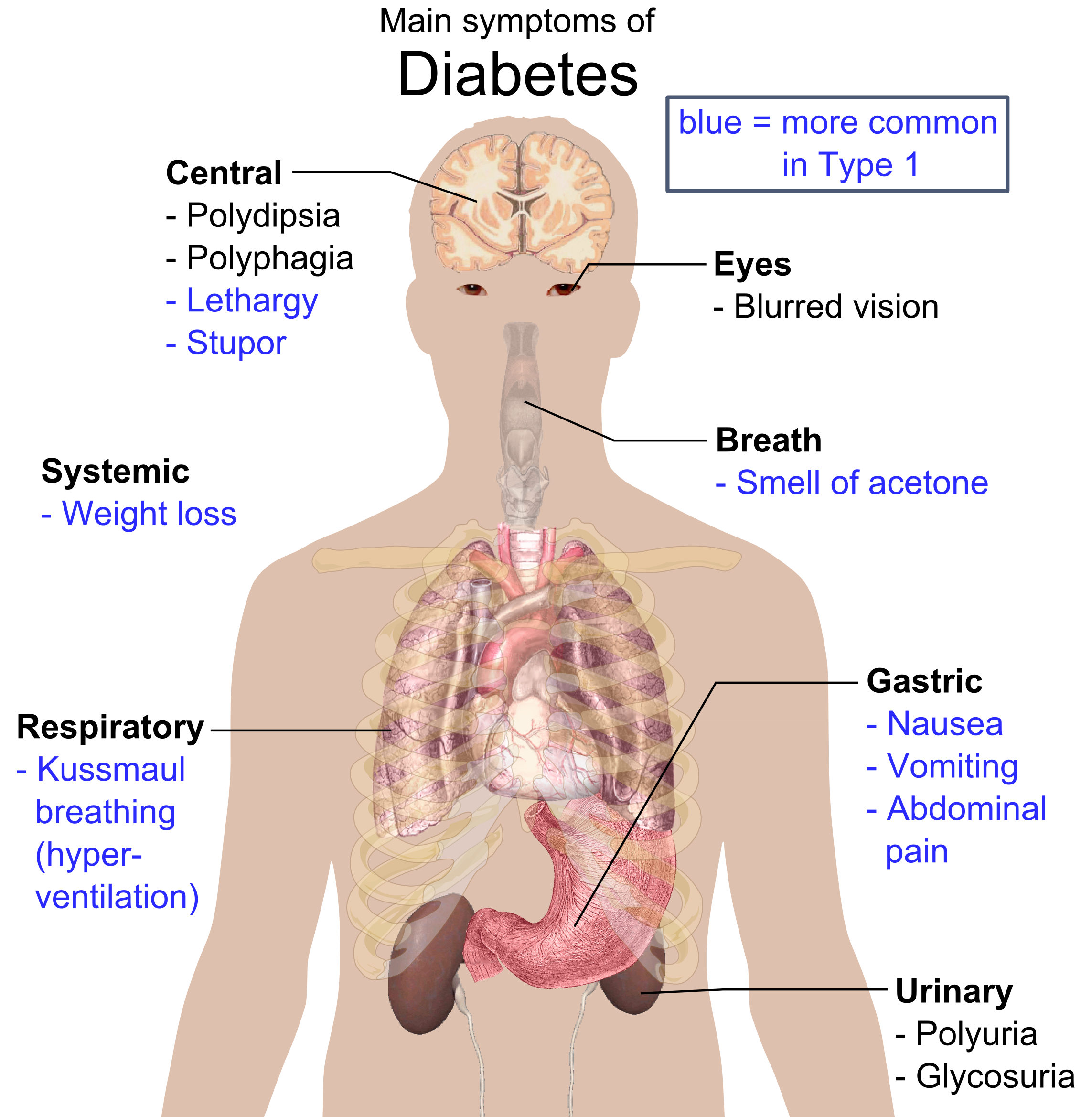 The first symptoms of diabetes are related to the direct effects of high blood sugar levels. When the blood sugar level rises above 160 to 180 mg/dL, glucose passes into the urine. When the level rises even higher, the kidneys excrete additional water to dilute the large amounts of glucose lost. Because the kidneys produce excessive urine, a person with diabetes urinates large volumes frequently (polyuria). The excessive urination creates abnormal thirst (polydipsia). Because excessive calories are lost in the urine, the person loses weight. To compensate, the person often feels excessively hungry (polyphagia). Other symptoms include blurred vision, drowsiness, nausea, and decreased endurance during exercise. In addition, people whose diabetes is poorly controlled are more susceptible to infections. Because of the severity of insulin deficiency, people with type I diabetes almost always lose weight before undergoing treatment. Most people with type II diabetes don't lose weight.
In people with type I diabetes, the symptoms begin abruptly and may progress rapidly to a condition called diabetic ketoacidosis. Despite high levels of sugar in the blood, most cells can't use sugar without insulin; thus, they turn to other sources of energy. Fat cells begin to break down, producing ketones, toxic chemical compounds that can make the blood acidic (ketoacidosis). The initial symptoms of diabetic ketoacidosis include excessive thirst and urination, weight loss, nausea, vomiting, fatigue, and–particularly in children–abdominal pain. Breathing tends to become deep and rapid as the body attempts to correct the blood's acidity. The person's breath smells like nail polish remover. Without treatment, diabetic ketoacidosis can progress to coma, sometimes within a few hours.
People with type I diabetes can develop ketoacidosis even after starting insulin treatment if they miss an insulin injection or become stressed by an infection, an accident, or a serious medical condition.
People with type II diabetes may not have any symptoms for years or decades. When insulin deficiency progresses, symptoms may develop. Increased urination and thirst are mild at first and gradually worsen over weeks or months. Ketoacidosis is rare. If the blood sugar level becomes very high (often exceeding 1,000 mg/dL)–usually as the result of some superimposed stress such as an infection or drugs–the person may develop severe dehydration, which may lead to mental confusion, drowsiness, seizures, and a condition called nonketotic hyperglycemic-hyperosmolar coma.