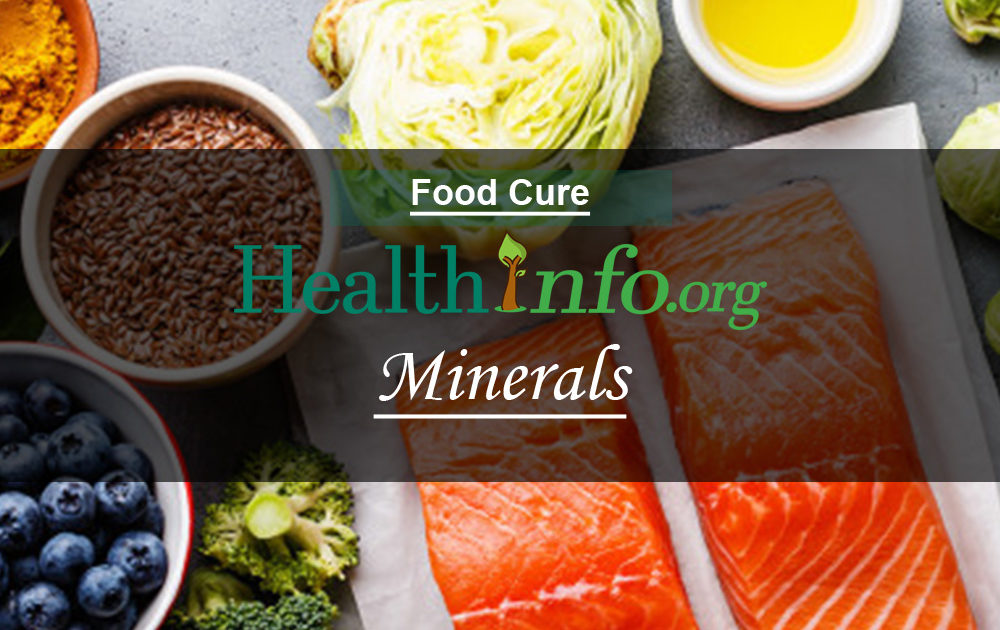 Our bodies work in synergy with what we put into it. If were lacking any one mineral or vitamin our bodies process's will be greatly impaired. We have to remember that minerals like iodine or selenium which we only need 1 thousandths of a gram are just as important as calcium which we need in gram amounts. Deficiency in either will have drastic effects on our health and well being.
Click on a link below for more info ….
Boron
Calcium
Calcium Rich Food
Chloride
Copper
Iron
Iodine
Manganese
Molydbenum
Phosphorus
Selenium
Sodium
Zinc
Boron
Dosage- 3mg
Boron is essential in providing the body with biochemical's called hydroxyl groups which are needed to produce the active forms of some steroid hormones
Read More: Dietary Recomendations for Estrogen Progesterone Balance
Calcium
Dosage- 400-1500 mg.
The average person (154 lbs / 70kg) will have 2.85 lbs or 1.3 kg of calcium found mostly within his or her bones. The approximate 1% outside the bones is used for a variety of process's including the conduction of impulses along nerve fibres and contraction of muscles. If a person takes a deficient amount of calcium in one day, the body will steal the needed calcium from our skeleton (cannibalize ourselves) to make up the deficit. The biggest source of calcium are dark leafy green vegetables.
Calcium has to work in synergy with magnesium, silicon, fluoride, zinc, copper, boron, manganese, phosphorus and vitamin D in order to save our bones from cannibalizing ourselves for these nutrients.
Read More: Traditional Chinese Food Cure (treatment of disease through diet)
Chloride
Dosage-
Chloride is the main negative charged electrolyte (anion) found outside of the bodies cells. It controls fluid and electrolyte balance when combined with sodium and potassium (cations). Chloride if found in heavy doses in salt and deficiency is rare.
Chromium
Dosage-200mcg.
Chromium is essential for normal glucose metabolism, insulin metabolism, fatty acid metabolism and muscle growth. The most effective form of chromium is in the form of picolinate. Most successful studies with chromium are done with chromium picolinate. The most abundant sources of chromium are whole grains and shellfish.
Copper
Dosage- 3 mg.
Copper is used for many enzymes, most importantly it is used to produce nor-adrenalin. Noradrenalin is used to give us energy. Copper is most abundant in organ meats and seafood.
Iron
Dosage- 10-25 mg.
Iron is the main element in the production of haemoglobin (red blood cells – the red pigment in blood). Iron is also needed for many other enzymes which are essential to our survival. Foods which iron levels are high in are whole grains, vegetables, meats and eggs. Vitamin C helps the absorption of iron, therefore deficiency of Vit. C may cause Iron deficiency. People can overdose with iron which can increase the risk of infections and have many other toxic side effects.
Iodine
Dosage- 150 mcg.
Iodine is one of the main nutrients needed in the upkeep of the thyroid hormone. The thyroid hormone controls all energy in the body which makes iodine an extremely important mineral. If iodine becomes deficient the thyroid gland enlarges giving rise to goiter or can create other diseases like cretinism or retardation. The best sources of iodine is seafood, even breathing in sea air every day will give you sufficient iodine to prevent goiter. Iodine becomes toxic over 2,000 mcg in most people but may exacerbate acne in lower doses.
Magnesium
Dosage- 400 mg.
The bodies magnesium levels are made up of 60% in the skeleton and 40% in the soft tissue making up the 20-30 grams found within the body. Magnesium forms part of over 300 enzymes in the body and is essential for burning glucose for energy. It also plays a role in the transmission of the genetic code and muscle contraction. Magnesium is found in high quantities in legumes and whole grains but over 80% is lost by the removal of the germ and outer layers of cereal grains. So much for "enriched" flour.
Manganese
Dosage- 2 mg.
Manganese is used in our bodies in the formation of bone and cartilage, for glucose metabolism and as a part of the antioxidant superoxide dismutase. The best sources of manganese are whole grains and black teas.
Molydbenum
Dosage- 150 mcg.
Molydbenum is needed in your daily intake of minerals as it forms part of three essential enzymes (xanthine oxidase, aldehyde oxidase and sulfite oxidase). It is mainly found in whole grains and legumes. Toxicity symptoms usually arise after taking more than 10 mg per day and will give gout-like disease.
Phosphorus
Dosage-
The average person has 700 grams of phosphorus inside their bones and another 100 grams floating around being used in various other process needed for our survival. Some of these essential processes using the 100 grams of phosphorus floating outside our skeletal system are the production of adenosine triphosphate (ATP) and Creatine phosphate. The best sources of phosphorus are meats, milk, fish and whole grains. The most common people experiencing phosphorus deficiency will also regularly use antacids containing aluminum hydroxide which inhibits phosphorus absorption.
Potassium
Dosage- 100 mg.
Potassium is the main positively charged electrolyte (cation) found inside the bodies cells. It interacts with sodium and chloride in the conduction of nerve impulses as well as many other essential functions.
Selenium
Dosage- 200 mcg.
Selenium has many function but it acts mainly as an antioxidant in conjunction with vitamin E. It helps form glutathione peroxidase which helps destroy damaging free radicals. The best sources of selenium is seafood and meats but grains and produce are poor sources. Toxicity of selenium occurs at levels above 1,000mcg per day.
Sodium
Dosage-
Sodium, potassium and chloride make up the three main electrolytes in the human body. Together they perform essential functions, without this our bodies would stop working immediately. Sodium is the main positively charged electrolyte (cation) found outside the cells within the body. On average the intake of sodium per day is 5 grams, this is 10 times the amount recommended by the RDA handbook.
Zinc
Dosage-
Zinc is used in thousands of essential enzymes within our bodies involving themselves in cell growth and testosterone production. Deficiency of zinc will decline muscle growth and weaken the immunity. Zinc is most commonly found in meats, eggs and seafood. Because zinc is essential for testosterone levels and sperm counts, zinc may be the cause of some cases of impotence.Calcium In General Western Foods
Calcium In Beans
| | | |
| --- | --- | --- |
| | Portion | mg |
| Tofu, extra firm | 1/4 cup | 50 |
| Tofu, firm (made with calcium) | 1/4 cup | 125 |
| Tofu, medium firm | 1/4 cup | 45 |
| Tofu, soft | 1/4 cup | 15 |
| Soy Bean, mature | 1/2 cup | 90 |
| Miso Paste | 2 Tbsp | 20 |
| White Beans | 1/2 cup | 80 |
| Tempeh | 2 Tbsp | 20 |
| Hummus | 1/4 cup | 30 |
| Navy, Jack, Sword beans | 1/2 cup | 60 |
| Black turtle beans | 1/2 cup | 50 |
| Pinto beans, Chick peas | 1/2 cup | 40 |
| Red Kidney beans | 1/2 cup | 25 |
Calcium In Nuts and Seeds
| | | |
| --- | --- | --- |
| | Portion | mg |
| Whole sesame seeds (black/white) | 1 Tbsp | 90 |
| Tahini (sesame seed butter) | 1 Tbsp | 63 |
| Almond butter | 1 Tbsp | 43 |
| Almonds, dry roasted | 1/4 cup | 95 |
| Brazil, Hazelnuts | 1/4 cup | 55 |
Calcium In Meats, Fish, Poultry
| | | |
| --- | --- | --- |
| | Portion | mg |
| Dried Fish | 2 Tbsp | 140 |
| Scallops, steamed | 7 | 105 |
| Sardines | 8 med | 370 |
| Oysters | 1/2 cup | 120 |
| Shrimp, canned | 1/2 cup | 75 |
| Salmon, raw without bones | 3 oz | 80 |
| Salmon, canned with bones | 3 oz | 190 |
Calcium In Vegetables
| | | |
| --- | --- | --- |
| | Portion | mg |
| Broccoli, cooked | 1/2 cup | 35 |
| Okra, frozen, cooked | 1/2 cup | 75 |
| Collard greens | 1/2 cup | 15 |
| Mustard greens, cooked | 1/2 cup | 50 |
| Kale, cooked | 1/2 cup | 100 |
| Rutabaga, cooked | 1/2 cup | 40 |
| Turnip greens, cooked | 1/2 cup | 95 |
| Lima beans | 1/2 cup | 15 |
| Beet greens, cooked | 1/2 cup | 85 |
| Dandelion greens | 1/2 cup | 55 |
| Onions, cooked | 1/2 cup | 20 |
| Carrots cooked | 1/2 cup | 25 |
| Tomatoes, canned | 1/2 cup | 35 |
| Parsnips, cooked | 1/2 cup | 30 |
| Yellow, green, waxed beans | 1/2 cup | 55 |
| Cabbage, cooked | 1/2 cup | 25 |
Calcium In Fruit
| | | |
| --- | --- | --- |
| | Portion | mg |
| Orange | 1 med | 55 |
| Dried Fig | 2 med | 54 |
Calcium In Non-Dairy Drinks
| | | |
| --- | --- | --- |
| | Portion | mg |
| Fortified soy beverage | 1 cup | 300* |
| Fortified rice beverage | 1 cup | 300** |
| Fortified orange juice | 1 cup | 300 |
| Regular soy beverage | 1 cup | 20 |
Calcium In Grains
| | | |
| --- | --- | --- |
| | Portion | mg |
| Amaranth, boiled | 1/2 cup | 150 |
| Regular, whole wheat, white bread | 1 slice | 20 |
| McGavin's enriched calcium bread | 1 slice | 150 |
| Whole wheat flour | 1 cup | 40 |
Other Sources Of Calcium
| | | |
| --- | --- | --- |
| | Portion | mg |
| Brown sugar | 1 cup | 180 |
| White sugar | 1 cup | |
| Black strap Molasses | 1 Tbsp | 170 |
| Regular Molasses | 1 Tbsp | 40 |
Calcium In Asian Foods
| | | |
| --- | --- | --- |
| | Portion | mg |
| Fish, small, dried | 1 Tbsp | 60 |
| Shrimp, small dried | 1 Tbsp | 145 |
| Shrimp, dried | 1/4 cup | 60 |
| Seaweed, dried (Agar) | 1 1/2 Tbsp | 75 |
| Seaweed, dried (Hijiki) | 1 Tbsp | 80 |
| Seaweed, dried (Laver or Nori) | 3 sheets | 15 |
| Seaweed, dried (Wakame) | 1/4 cup | 10 |
| Chinese cabbage/Bok Choy cooked | 1/2 cup | 75 |
| Chinese broccoli | 1/2 cup | 135 |
| Sea cucumber, raw | 3 oz | 65 |
| Fat-Choy, dried | 1/4 cup | 50 |
| Oyster, dried | 1 | 15 |
| Soya bean curd cake strip (dried) | 1/2 strip | 80 |
| Soy bean curd clot (dried) | 1 sheet | 55 |
| Soy bean curd cake (spiced) | 2 pieces | 60 |
| Lily flower, dried | 1/4 cup | 85 |
| Jada's ear (Agaric), Wolfberry leaves | 3 oz | 210 |
| Boiled bone soup | 1 cup | trace |
| Lamb's quarters | 1/2 cup | 250 |
| Native ice cream – whipped soap berries | 1/2 cup | 130 |
| Herring eggs | 1 oz | 15 |
| Oolichan, salted, cooked | 3 oz | 210 |
| Fish head soup | 1 cup | 150 |
References
Bowes and Church, 1997
Canadian Nutrient File
Standard Tables of Food Composition in Japan, 1990
Nutritive Values of Some Common Foods
Food Composition Table For Use in East Asia, 1972