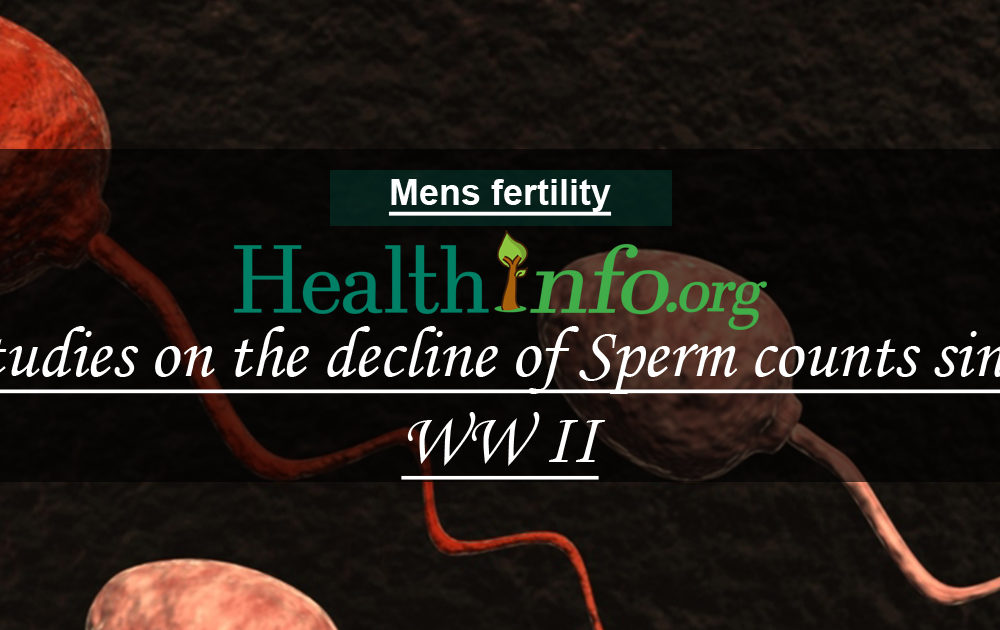 Studies on the decline of Sperm counts since WW II
1. Carlsen E., Giwercman, A.J., Keiding, N., Skakkebaek, N.E. Decline in semen quality from 1930 to 1991. [Danish] Ugeskrift for Laeger. 155(33):pp2530-2535; Aug 16, 1993
2. Auger J. Kunstmann JM Czyglik F., Jouannet P. Decline in semen quality among fertile men in Paris during the past 20 years. New England Journal of Medicine. 2;332(5): pp 281-285; Feb, 1995
3. Sharpe, R.M. On the importance of being earnest. Decline in semen quality among fertile men in paris during the past 20 years. Human and experimental toxicology. 14(5): pp 463-464; May, 1995
4. Decline on the quality of male semen [German] Deutsche Medizinische Wochenschrift. 120(31-32): p 1107; Aug 4, 1995
5. Sharpe, R.M. and Skakkebaek, N.E. Are oestrogens involved in falling sperm counts and disorders of the male reproductive tract? Lancet. 341(8857): pp 1392-1395; May 29, 1993
6. Wright, L. Silent Sperm. The New Yorker. Jan 15, 1996, pp42-55
7. Olsen, G.W., Bodner, K.M., Ramlow, J.M., ross, C.E., Lipshultz, L.I. Have sperm counts been reduced 50 percent in 50 years? A statistical model revisited. Fertility and Sterility. 63(4): pp 887-93; Apr, 1995
Must Read: Effect of acupuncture on sperm parameters of males suffering from subfertility related to low sperm quality.
From biomedical statistics, it seems that we may be on the verge of extinction. Over the last half century since World War II, human sperm counts in industrialized countries have dropped 50% on average, and are predicted to be near zero within the next few generations. Likely causes are various toxic pesticides, herbicides and industrial chemicals (DDT, PCBs, and others), estrogen containing compounds (including chemicals that mimic estrogens), hormones in animal products, and stress from modern urban lifestyles. Preserving our reproductive health through reduced environmental stress, we directly improve the strength and richness of our reproductive capacities, including sperm.
Whether or not sperm counts are decreasing has been debated on the basis of the testing procedures used. In the US there have been statistical studies derived from various tests involving different test parameters. Thus, some studies (funded by the Dow chemical company and others) suggest that certain previous statistical analyses used inappropriate statistical models in identifying declining sperm counts, and are therefore unreliable (see study # 7 above). However, there are a number of carefully controlled European studies that leave little doubt in any statisticians's mind that sperm counts indeed are in rapid decline in many areas of the world (see all other studies above).
Some areas have declined faster than others; in finland, where sperm counts are generally high, the counts in certain rural, isolated areas are considerably higher than in cities. This suggestion, coupled with research indicating that chemical, toxic, and stressful situations contribute to declining sperm counts, brings us a clear perspective; sperm, the progenitor of life, is in decline because the vitality of the planet and her inhabitants is in decline. Excessive population is often cited as a cause. Certainly too many people are on the planet for the kinds of technology we are using. Waking up to this awareness intellectually is only a part of the solution. Biologic forces are strong, and if many continue to eat the foods of degeneration (Tamas), then many will continue to participate in degenerative activities, regardless of how they conceptualize the problem and its solution. Providing statistical proof of the dire planetary situation (which has been amply done over the last generation) falls flat when faced with mindless desire and greed. When more people choose vital, uplifting foods, and find security in spiritual strength rather than material accumulation, we will experience a mental and biologic foundation that encourages living not only appropriately, but with wisdom and joy.