Have you ever considered which are the best nuts to help you lose weight?
In this article we will give you all the information you ever needed and more!
Nuts are festive for thanksgiving and christmas holiday decorations and menus; dainty for receptions and luncheons; nutritious in a variety of everyday dishes, nuts are a delightful addition to our dinner table. Nuts add flavor, texture, and design to salads, entrees, soups, and desserts. Because they are concentrated food a small amount goes a long way.
According to the US Department of Agriculture, "mature dry legumes and nuts are the richest sources of protein among the foods of plant origin." The protein content ranges from a low 3.5percent in coconuts to a high 31 per cent in pignolia nuts.
Nuts in a Special Diet.
Nuts are rich sources of fat and oil, especially of the unsaturated kind, which makes them suitable for diets low in saturated fats. They do not contain cholesterol. Nuts may be included advantageously in special diets, such as the low sodium and the diabetic.
Because of the high fat content in nuts, rancidity becomes a problem. Unshelled nuts keep much longer than shelled ones. When the nutmeat is in contact with the oxygen and humidity of the air the process of rancidity is hastened. Therefore shelled nuts (especially salted nuts, which become rancid more easily than unsalted ones) should be stored in airtight containers under refrigeration or in a cool place.
The carbohydrate content of nuts is low or moderate except for chestnuts, which are quite starchy.
In general, nuts are moderate to rich sources of thiamine and riboflavin. Peanuts are a good source of niacin. Only traces of vitamins A and C are present. Minerals such as iron and phosphorus are well distributed, whereas calcium is low in most nuts with the exception of almonds and filberts.
Because of their concentrated nature, nuts should be used sparingly. In addition to that, nuts is a food that have no indication that nuts are indigestible which are the usual complaints. Nuts must be chewed well. If chewing is impaired, they should be used ground.
On the market today we find many varieties of nuts grown in the US or imported from many tropical and subtropical areas of the world. Here is some brief information on the ones most commonly used:
Almonds
Almonds or scientifically known as Prunus amygdalus, belongs to the Roceae family, as do peaches and prunes. Almonds are mentioned seventy-three times in the old testament. The seed of the "wake tree," so called because of its early pink blossoms, was a commercial article in Mediterranean countries.
First introduced to the US by Spanish padres, almonds have adapted well to the valleys and slopes of California, from where almost 99 per cent of the yearly crop comes.
There are many varieties of almonds — some hardshelled, some sof-shelled, some originally brough from abroad, some developed in the US.
Almonds are high in protein (18 to 20 per cent); fats (50 to 54 per cent); and certain vitamins and minerals, especially riboflavin, calcium, and iron. One hundred grams of almonds (three and one-half ounces) contain as much calcium as a cup of milk and as much iron as a four-ounce piece of beef. Ounce for ounce, the skin has three times higher concentration of calcium and iron than the kernel. Because the skin is only 4.7 per cent of the total weight, blanching does not affect considerably the mineral content. Unblanched almonds, a panel of experts voted, have the best flavor.
Vegetables are delicious with slivered or sliced almonds. Almonds add pleasing crunchiness to loaves, casseroles, noodle dishes, patties, and salads and extra flavor to desserts, confections, and bakery products. Almonds are welcome on the breakfast table, in the mixed-nut bowl, and shelled for luncheons, receptions, or dinners.
Brazil Nuts
Brazil Nuts (Bertholletia excelsa) belong to the Lecythidaceae family. Grown in the countries of Brazil, Guyana, Bolivia and Venezuela, Brazil nuts are favorites for confections and as a dessert nuts.They contain 14 per cent protein and 66 per cent fat. If Brazil nuts in the shell are stored a few hours in the freezer before cracking, the shell can be removed easily.
Cashew Nuts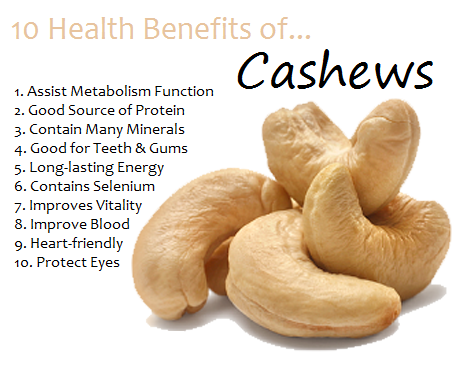 Cashew Nuts (Anacardium occidentale L.), from the Anacardiaceae family, are gorwn in central America, South American, and the west Indies. Portuguese explorers introduced the cashews to India and Ceylon, from where large quantities are imported to the United States. The kidney-shaped kernel is delicious.
Cashews contain 18 per cent protein, 48 per cent fat, and a fair percentage of carbohydrate. They may be used in almost any dish. To entrees, sandwich fillings, pastes, cassseroles, desserts, and salads, cashew nuts add flavor and a pleasing texture.
Chestnuts
Chestnuts (Castanea dentata), from the Fagaceae family, have disappeared from the United States scene because of a fungus disease that attacked the trees.
Chestnuts are starchy, and in certain communities they are eaten in place of potatoes. Chestnut flour is used in puddings. Glaceed, chestnuts are a special treat. Also they are used in tasty entrees, breads, souffles, and dressing to accompany a roast.
Coconuts
Coconuts (Cocos nucifera) come from a palm tree that belongs to the Palmaceae family. The meat, fat, and milk of the coconut are used in cooking in the countries where it is produced. The oil serves in the manufacture of soap.
Coconuts are used in bakery goods, confections, and desserts. Coconut rice is delicious in Oriental dishes. The coconut contains 3.5 per cent protein and 35 per cent fat. The fatty acids are mostly short-chain saturated, and the fat has 7.5 per cent of oleic acid and traces of linoleic acid.
Hazelnuts
Filberts, or Hazelnuts (Corylus t.) from the Corylaceae family, are especially good from confections, bakery goods and desserts. American and European varieties contain about 13 per cent protein and 62 per cent fat. They are good in such dishes as roasts and patties.
Hickory Nuts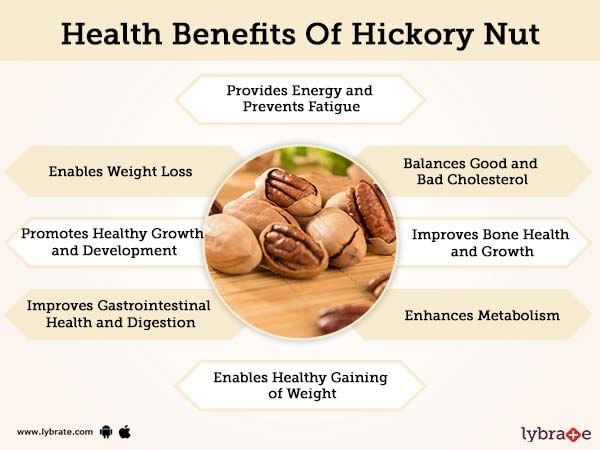 Hickory nuts (Carya nut) are from a beautiful tree of the Juglandaceae family. Although not a commercial nut to a large extent, the hickory nut has a delectable flavor. It contains 13 per cent protein and 68 per cent fat.
Macadamia Nuts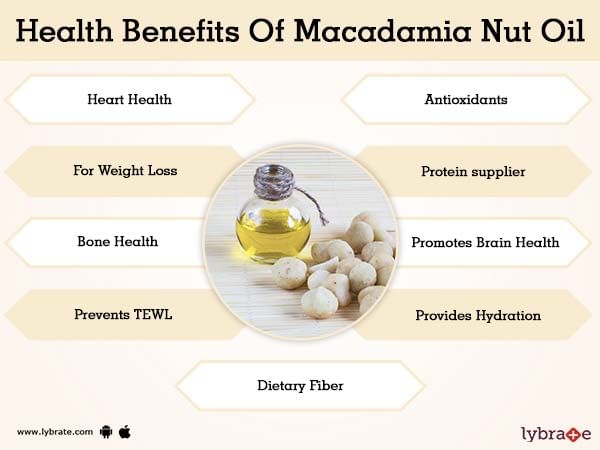 Macadamia nuts (Macadamia ternifolia), from Proteaceae family, are originally from Australia and are also grown in Hawaii. This is a delicious dessert nut. It has about 7.5 per cent protein and a high fat content.
Pecans
Pecans (Carya illinoensis), also from the Juglandaceae family, are appreciated for their pleasing flavor. They contain 9 to 10 per cent protein and a high 73 per cent fat.
If whole kernels of pecans are needed, unshelled nuts may be covered with boiling water and allowed to stand until cool. Then they can be broken carefully. They become crisp again when dried.
Pine Nuts
Pine nuts (Pinus edulis), from the Pinaceae family are indigenous to New Mexico, Colorado, Arizona, and Texas. Indians gathered and stored pine nuts for winter food.
Delicious tasting, they may be used for entrees or confections. They contain an average of 14 per cent protein and 60 per cent fat.
If shelled, pine nuts become rancid in three to six months. Unshelled, they keep for a long time.
Pignolia Nuts
Pignolia nuts resemble closely the indigenous pine nuts, although their protein content reaches a high 31 per cent and their fat only 49 per cent. These nuts may be used in tasty entrees and other dishes.
Pistachio Nuts
Pistachio nuts (Pistacia vera), from the same family as the cashew–Anacardiaceae — are also dessert nuts used in ices, ice cream, pastries, and confections. They have a delightful green or yellow color and an exquisite flavor.
Pistachio nuts are possibly the nuts mentioned in the Bible under the general term, for they grow especially in Bible countries.
Walnuts
Walnuts (Juglans regia–English walnut; Juglans nigra–black walnut), from the same family as the pecan–Juglandaceae–are possibly the nuts most widely used. Native to Persia, English walnuts were introduced first to England and alter to all the world. Walnuts have infinite uses in roasts, croquettes, patties, loaves, casseroles, salads, vegetables, desserts, sandwiches, baked goods, confections, and in mixed nuts as a dessert.
Walnuts contain 14 to 16 per cent protein and 60 to 64 per cent fat. Black walnuts are used extensively in baked goods and confections because of their distinctive flavor.
Peanuts
Peanuts (Arachis hypogaea), although not nuts proper, resemble nuts for their high protein and fat content. Peanuts belong to the Leguminosae family, as do the peas and beans; therefore they are a legume. On a dry basis, peanut kernels contain about 30 per cent protein and 50 per cent oil. Peanuts have the highest niacin (a member of the vitamin-B complex) content of any oil seeds. They also have a fair content of most vitamins and minerals.
Peanut butter made from roasted peanuts is a favorite constituent of sandwiches, cookies, and confections. Peanuts are eaten roasted, fried, raw, salted, or unsalted. Peanut meal may be used to replace up to 20 percent of the wheat flour in quick bread or cake without change in ingredients. Above this amount, adjustments are made, especially in the liquid.
One pound of unshelled nuts yields in shelled kernels about one cup for almonds, one and one-third cups for pecans, one and one-half cups for English walnuts, and only one-half cup for black walnuts.
Tests on unshelled pecans showed that the kernels were free from microorganisms (disease germs), whereas shelled kernels easily became contaminated. Proper sanitation is important in storing shelled nuts.
F. A. Cajori in his doctoral thesis concluded that "nuts are valuable foods, and if eaten properly and used in the diet with due regard to their concentrated make-up, are on a physiological par with the common staple articles of the diet."
Thank You for reading our guide about the best nuts for weight loss we would love to hear your thoughts, please share your experiences below.