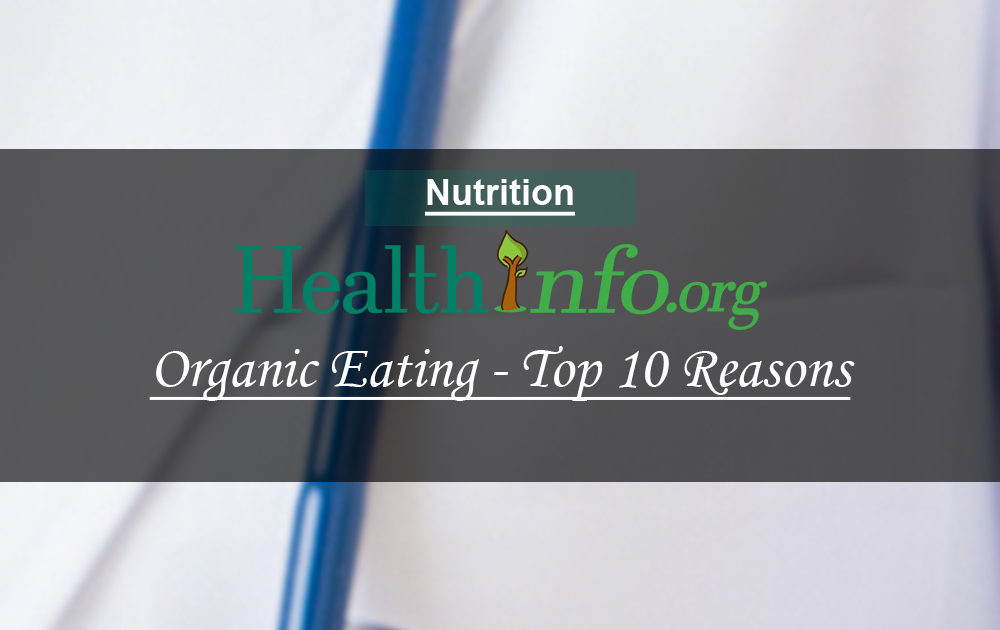 #1 – Organic Farming is Better For Wildlife!
According to Britain's soil association, a study in 1996 reports that wildlife is substantially richer and more varied on organic farmland when compared to that of conventional farm land. Studies show that organic farms have as many as 5 times more wild plants, 57% more species, and 44% more birds. Organic farms help restore wildlife!
#2 – Organic Farming is Better For The Soil!
Studies have revealed that organic fields have deeper vegetation, more weed cover, and contain 88% more epigeal arthropods. A study done in Switzerland demonstrates how organic soils have more soil microbes, more mycorrhizae (fungi aiding in plant absorption of nutrients), and more earthworms. This examination also found more spiders and beetles which eat plant eating bugs!
#3 – Organic Food is Better for Animal Reproduction!
Out of the 14 studies done to date, 10 showed that animals fare better when fed organic food, 3 showed no difference, while only 1 showed an improvement with conventional food. Female rabbits fed organic diets have 2 times the amount of ovum production; chickens fed organic food have 28 percent higher egg production.
Humans are quite similar to animals as there is a strong possibility that organic food affects us in the same way!
#4 – Organic Foods Fight Cancer, Fight Stroke and Fight Heart Disorders!
A Scottish study found that organic vegetable soups contain almost 6 times the amount of salicylic acid as non-organic vegetable soup. 11 brands of organic soup tested have 117 nanograms per gram of salicylic acid, while there are only 20 nanograms of salicylic acid in the 24 types of non-organic soup tested. Salicylic acid aids in the fight of hardening of the arteries and prevents bowel cancers.
#5 – Organic Foods Contain More Nutrients!
A study from the Globe and Mail and CTV news on fruit and vegetables, compared produce from today against produce from 50 years ago. It concluded that today's fruits and vegetables contain dramatically less vitamins and minerals.
For example, potatoes. When compared to 50 years ago, today's average conventionally farmed potatoes contains 100% less vitamin A, 57% less vitamin C, 57% less Iron, 50% less riboflavin, and 18% less thiamine. Another example is broccoli! Today's broccoli has 63% less calcium, 34% less iron and a drop in 7 other nutrients. It seems that it is a necessity, not an option, to use supplements today if we only eat conventional foods.
When comparing Organic foods farmed today the statistics are not so appalling. In every case of a US study in April 2001, organic foods (compared to non-organic foods) had a higher nutrient level averaging 27% more vitamin C, 29% more iron, and 14% more phosphorus. There are also reports that organic oranges contain an average of 30% more vitamin C than conventional oranges; it is amazing to think that the average organic orange is half the size!!
All in all, organic foods will generally have substantial elevated levels of Vitamins A, C, E, and B in addition to group vitamins, such as zinc, calcium, and fibre.
#6 – Organic Apples are Better!
A soil scientist from 1994 to 1999 did a series of tests comparing apple orchards. The organic orchards had the best soil, held water better, and heighten the resistance against soil damage. The organic farms were more energy efficient and required less labour and less water per apple. The organic apples were firmer, tasted sweeter, and were less tart to a non-expert panel! The organic orchard also made more money since the apples sold for a higher price.
#7 – Organic Farming Can Feed The World!
According to a Greenpeace report, organic and agro-ecological methods of growing in the southern hemisphere produced a dramatic increase in yields, as well as reduced pests and diseases, increased crop diversity, and improved nutritional content. When several fields in Tigray, Ethiopia raised organic crops, the yield was 3-5 times more than chemically treated plots. In Brazil, maize yields increased by 20-250%, in Peru, upland crops yielded 150% more! A 21 year Swiss study found that organic yields were 20% smaller than conventional farm yields, yet the organic farms required 34-53% less fertilizer and energy to grow. The organic farms were also found to yield more food per unit of energy.
#8 – Organic Farming Protects the Climate!
Organic soil is full of living carbon, carrying creatures restoring damaged soil back to healthy soil. In the Broadbalk experiment, soil fertility increased by 120% in the manured plots versus 20% in the chemical plots. The same results were discovered in a Swiss experiment. So by organic farming, we increase carbon within our soil, which in turn, creates more assistance to counteract global climate changes!
#9 – Organic Farming Produces Higher Yields in Drought Condition!
In comparative studies on grain and soybean production in US Midwest, organic farms produced higher yields in drier climates and during droughts than conventional farms. The organic farms also produce similar yields in regular conditions. The same results were found in the Rodale experiment.
#!0 – Organic Food is Safer!
Organic farming generates more jobs, produces more profits, and doesn't pollute ground water with nitrogen run-off. It doesn't have un-known risks as with genetically modified crops. There are no chemical side effects to worry about while working on or living on a organic farm.
If we all choose to eat organic food, we will all be healthier, our farmers and farms will be healthier, frogs, worms, and butterflies will be healthier, our children, and the earth will be healthier. We must make the change needed to turn away from conventionally chemically grown foods, to the clean and pure organic farm fresh foods.
Read More: Antioxidants Interfere with Ovulation – study shows