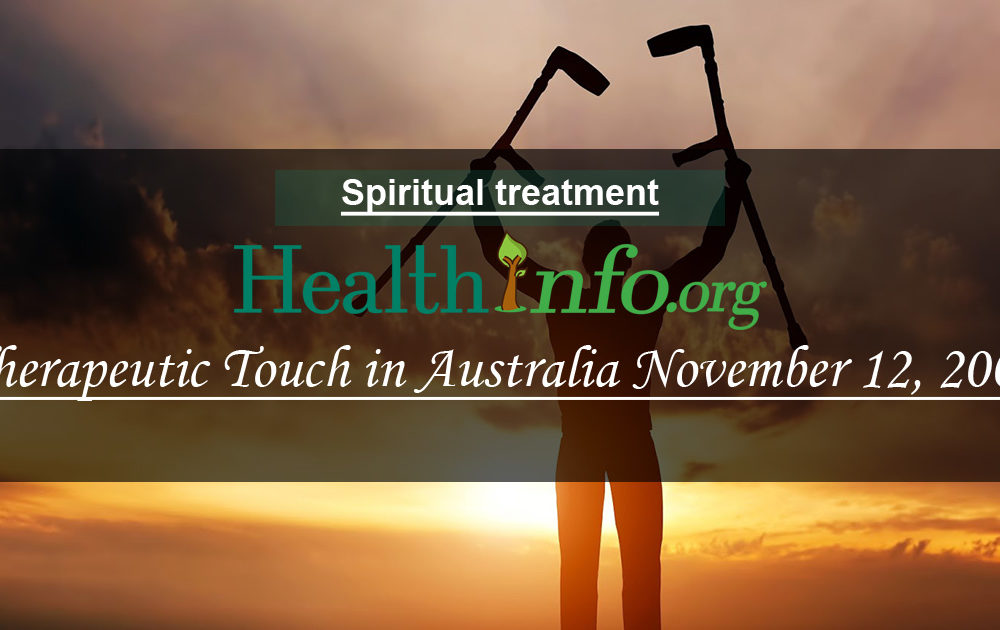 In September 2001, I took part in a psychiatric nursing exchange program to the Whyalla campus of the University of South Australia. Whyalla is a rural community of 30,000, set in a semi-arid outback landscape of red sand and salt bush. While I was there it rained, and the desert bloomed vibrantly. This unique setting was the backdrop of my Australian Therapeutic Touch (TT) experience.
Australian Nurses take positive initiatives on health promotion, so I was invited to talk about Therapeutic Touch on the local radio station, write and article for the newspaper and give introductory demonstrations to the communities of Whyalla and Port Augusta. Then fifteen people in the Whyalla community took my weekend workshop on Level 1, Therapeutic Touch.
It was 3 pm on Saturday and we were practising TT on the grass of the shaded university quadrangle. So far I had taught, Centering, Intention, Assessment and Grounding. We were interrupted by one lady's husband reporting that their daughter was in hospital after a cycle accident. The 14 year old girl, had an extensive gash on her leg with salt bush prickles painfully implanted. The parents rushed off to the hospital; but before they left, I whispered to the mother that "Therapeutic Touch could help, even as much as we had learnt that day."
The next day the lady returned to class elated. She had fainted in hospital at the sight of her daughter's injury. However, when she recovered, she had asked her daughter if she would like some Therapeutic Touch. The mother Centered, had an intention of "love" and "stroked the air" for her assessment, then grounded by holding her daughter's feet. The girl felt comforted. The next day her daughter asked her to come to the workshop " Learn some more Mum, that really helped me yesterday!" What an encouraging start for someone who was just learning Therapeutic Touch!
At the Australian and New Zealand Mental Health Nurses Conference in Melbourne, I presented my work using Therapeutic Touch with people who have a chemical dependency. I demonstrated the TT approach I use in an drop -in center for people with addictions. Three volunteers from the audience sit on chairs closely together, as this resembles the rather crowded conditions of the drop- in. I give TT to the center person, who quickly relaxes. The person either side, may "watch me like a hawk" or feel the calm of TT and " just relax too". Similar comments are made by people in the drop-in. The volunteers then share aloud their experiences of TT. Their spontaneous comments about the profoundness of the relaxation and the sense of calm and safety, made a significant impact on the watching audience. I have used this TT demonstration many times, before audiences that range from 5 to 150, and the outcome is predictably similar. This teaching strategy helps open the audience's mind to the possibility that Therapeutic Touch is a valuable complementary therapy for people with chemical dependency problems.
Must Read: Miscarriages Linked to Defective Sperm and Lower Sperm Counts
I also met Australian and New Zealand psychiatric nurses who are using mediation, and integrating Eastern healing philosophies into their practice. I did not meet any TT practitioners, but understand that TT is taught in some Melbourne Hospitals. For me it was a wonderful opportunity to share my experiences using Therapeutic Touch with the open and receptive people I met in Australia.