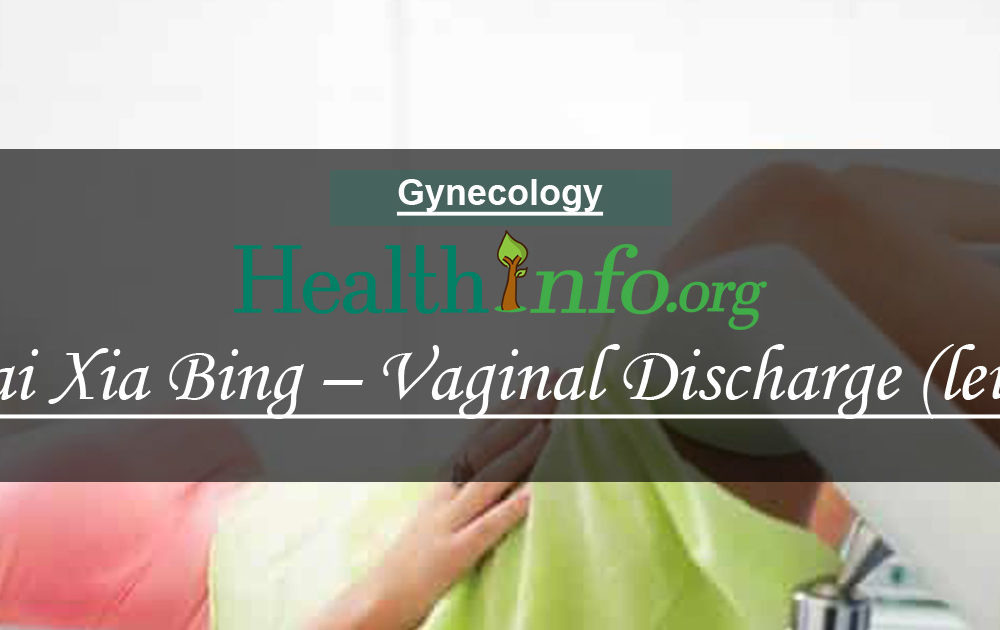 Diagnosis
Normally there is small, unnoticeable amounts of discharge if the KI is strong & the SP is transforming & transporting properly. Discharge is also regulated by Ren & Dai. Regular discharge has no color (clear white), no odor, & is slightly sticky. around ovulation & late Luteal phase there is slightly more, also during pregnancy.
Discharge is abnormal if the amount is ↑ & the density, color & odor is noticeable.
→ White color, may be large amount, thin or thick, cottage cheese or frothy.
→ Yellow color, amount may be small or large, strong odor, thin or thick (ulcers or inflammation).
→ Red color, pale red, large or small amount, thick or thin, pain/inflamed in the vaginal area, has odor.
→ White & Red, thick sticky, with odor (cervical problems, cancer, cysts etc).
→ Pus, large amount, strong odor, may contain blood.
→ Mixed pus/white/red/yellow or colors appear separately.
Differentiate – over-sexually stimulated by oneself. Metrorrhagia.
Etiology
SP Qi ↓ – over work, poor diet, liver attack SP → lose T & T of fluids → stagnation & accumulation → turbid dampness → retained in low Jiao → injures Ren & Dai (consolidate & bind) = discharge. (KI Qi or Yang may also impair SP)
KI Yang ↓ – age, sickness, congenital weakness → ↓ Ming Men fire → KI can't steam & transform dampness → damp/cold accumulates → retained in low Jiao → KI Qi can't control the gates = discharge.
KI Yin ↓ – aging, chronic illness, LR ↓ → ↓ Fire impairs Ren & Dai = discharge. When KI Yin ↓ it is easy to be invaded by damp/heat in low Jiao → impairs Ren & Dai = discharge.
Damp/Heat – a) SP ↓ → dampness → stagnation turns into heat.
b) LR attack SP then dampness & Qi stagnation turn into heat→damp/heat = discharge.
c)greasysweet spicy foods & alcohol turn into damp/heat.
External causes – live in Damp environment, summer-heat w/ damp, lower limb infection is damp/heat which can follow the meridians upward into the low Jiao.
Ψ Heat & Damp – poor surgery, certain suppositories may irritate, tampons, sex toys, poor hygiene all can give rise to Ψ damp/heat = discharge.
Principle of Treatment eliminate damp, strengthen SP (do not use dry hot herbs).
Pathogenesis Differentiation & Treatment
SP Qi ↓ – white, large amount, thick, sticky, no odor Plus – SP ↓ symptoms T-pale P/T strengthen & ascend SP Yang Qi to transform dampness Rx Wan Dai Tang
KI Yang ↓ – large amount, egg white (clear sticky), or watery Plus – KI Yang ↓ symptoms T-pale P-weak P/T – nourish KI Yang – consolidate essence Rx – Jin Suo Gu Jing Wan
KI Yin ↓ – may be pink-red with white, thick, dry burning around vagina Plus – KI Yin ↓ symptoms T-red, no coat P-thin rapid P/T – nourish KI Yin – clear ↓ heat Rx – Zhi Bai Di Huang Wan w/ external Damp/Heat add Yi Ren, Cang Zhu, Bei Xie minus Shan Zhu Yu
Damp/Heat – large amount, yellow (w/ pink-red), thick, strong odor, side abdominal pain, dislike touch, may have burning vagina Plus – damp/heat Lin, constipation, loose stool T – red, damp coat P- slippery rapid P/T – clear heat induce diuresis Rx – Long Dan Xie Gan Tang
Ψ Damp/Heat – large amount, pus, green/yellow, strong odor, may be blood, burning vagina, cottage cheese, severe itchy, acute w/ fever, low abdominal pain, thirst w/ no desire to drink, scanty yellow urine, dry stools. Plus – red, yellow-greasy P- slippery rapid P/T – clear heat, detox, eliminate damp Rx Bei Xie Fen Qing Yin + clear heat detox herbs (hong tong, bai jiang cao, ku shen, pu gong ying), →[anti-inflammatory for low Jiao] – Also for external wash.
Western Medicine
Trichomonas vaginalis (protozoa)-frothy grey bubble – white discharge w/ odor, itchy, red dots on area.
Candida Albicans (fungi)-cottage cheese, sticky, very itchy, white layer covers area.
Senior Vaginitis– old people, burning in area, yellow, small amount, mixed w/ pink-red, ulcers, tender skin area.
Cervical Erosion– pus, yellow or white, erosion around cervical area, may have low back ache.
Pelvic Inflammation– pus, pink/white, low abdominal pulling pain, exam gives pain, inflamed Uterus, Ovaries.
Cancer– cervical, bloody watery discharge w/ odor, easy to bleed, irregular bleeding cyst – round moveable / cancer – fixed cauliflower
GonorrheaVaginitis – STD bacteria (gonococcus neiseria), pus, UTI (Lin)
Submuscularis Uterine Fibroids– watery discharge, longer heavy period, blood↓ symptoms.
Non-specific vaginitis– local area injury, yellow w/ odor.