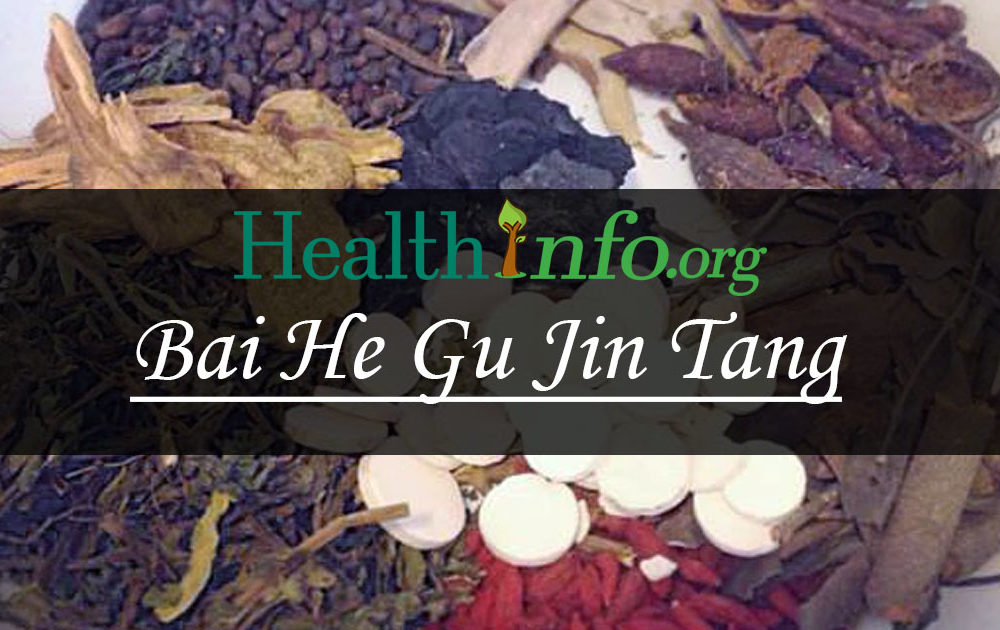 Lily Bulb Decoction to Preserve the Metal
Main Action of Bai He Gu Jin Tang
This TCM herbal formulas functions are to nourish the yin and moisten the lung while clearing phlegm and stopping coughing. The formula is best suited for conditions where there is both lung and kidney yin deficiency. The yin deficiency of both these organs generates internal heat causing the symptoms listed below.
Indications and symptoms for Bai He Gu Jin Tang
Coughing, blood streaked sputum, wheezing, dry throat, sore throat, hot palms and soles, night sweats
Tongue – red body, dry coat
Pulse – thin rapid
Herbal Ingredients of Bai He Gu Jin Tang
Bai He (Bulbus Lilii, Lily Bulb) – 3g.
-moistens lungs, nourish lung yin, clears heat
Sheng Di Huang (Radix Rehmanniae Glutinosae, Chinese Foxglove Root, Raw Rehmannia) – 6g.
-tonify yin, tonify kidney, cools blood, stops bleeding
Shu Di Huang (Rehmanniae Glutinosae Conquitae, Chinese Foxglove, Cooked Rehmannia) – 9g.
-tonify liver and kidney yin
Mai Men Dong (Tuber Ophiopogonis Japonici, Ophiopogon Tuber) – 4.5g.
-nourish upper jiao yin
Xuan Shen (Radix Scrophulariae, Ningpo Figwort Root, Scrophularia) – 2.4g.
-promotes kidney fluids to flow upwards to lungs, clears deficiency heat and fire
Chuan Bei Mu (Bulbus Fritillariae Cirrhosae, Tendrilled Fritillaria Bulb, Fritillaria) – 3g.
-moistens lungs, transform phlegm, stop cough
Jie Geng (Radix Platycodi Grandiflori, Balloon Flower Root, Platycodon) – 2.4g.
-promotes lung Qi movement
Dang Gui (Radix Angelicae Sinensis, Chinese Angelica Root, tang-kuei) – 3g.
-nourish blood and yin
Bai ShaoYao (Radix Paeoniae Lactiflorae, White Peony Root, Peony) – 3g.
-nourish blood and yin
Gan Cao (Radix Glycyrrhizae Uralensis, Licorice Root) – 3g.
-harmonizes other herbs in formula, aids throat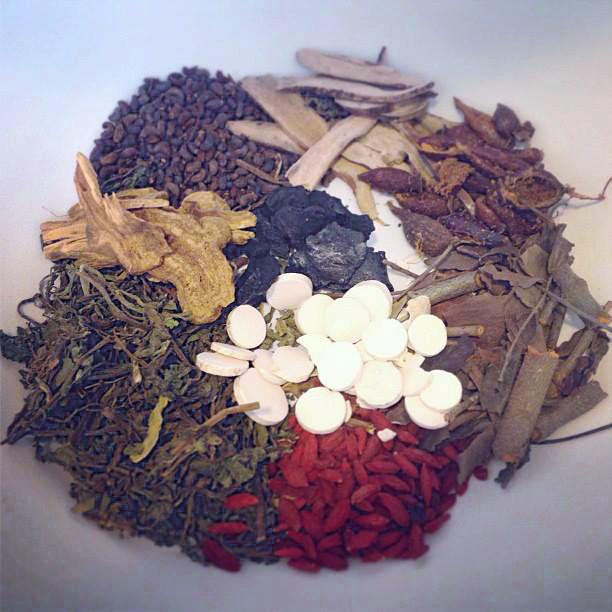 Cooking Preparation of Bai He Gu Jin Tang
This natural medicine herbal formula is usually decocted today in a larger dosage than traditionally suggested here using 2-3 times the dosage.
Additional Information on Bai He Gu Jin Tang
This TCM herbal formula is similar to that of Bu Fei E Jiao Tong (Tonify The Lungs Decoction with Ass-hide Gelatin) but while both formulas tonify the lungs Bai He Gu Jin Tang nourishing lung yin aspect is much stronger. Bu Fei E Jiao Tang focuses more on clearing hat and stopping bleeding.
Bai he Gu Jin Tang is also similar to that of Qing Zao Jiu Fei Tang (Eliminate Dryness and Rescue the Lungs Decoction) but also posses the ability to slightly release the exterior and treats injury to the Qi and yin while Qing Zao Jiu Fei Tang only addresses lung and kidney yin deficiency with heat.
When the appropriate symptoms are present this alternative medicine formula is able to treat such diseases as chronic bronchitis, bronchiectasis, pharyngitis, spontaneous pneumothorax, corpulmonale, silicosis and pulmonary tuberculosis.