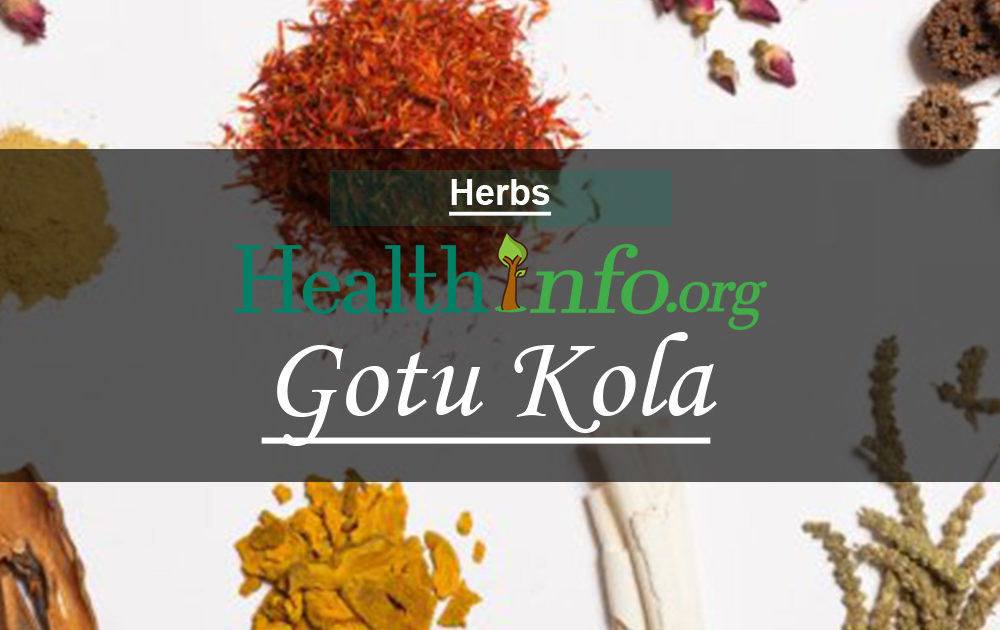 Also Named As:
Brahma-Buti, Brahma-Manduki, Centella, Centellase, Gota Kola, Gotu Cola, Gotu-Kola, Hydrocotyle, Hydrocotyle Asiatique, Indischer Wassernabel, Idrocotyle, Indian Pennywort, Indian Water Navelwort, Luei Gong Gen, Madecassol, Marsh Penny, Talepetrako, Thick-Leaved Pennywort, Tsubo-kusa, Tungchian, White Rot. Centella asiatica, synonym Hydrocotyle asiatica; Centella coriacea.
Family: Apiaceae or Umbelliferae.
Also Used For:
Orally, gotu kola is used for reducing fatigue, improving memory and intelligence, venous insufficiency including varicose veins, wound healing, and increasing longevity. It is also used for the common cold and influenza (flu), sunstroke, tonsillitis, pleurisy, urinary tract infection (UTI), hepatitis, jaundice, abdominal pain, diarrhea, indigestion, gastritis, peptic ulcer disease, dysentery, trauma, shingles, leprosy, cholera, syphilis, psychiatric disorders, epilepsy, asthma, anemia, diabetes, and hypertension. Gotu kola is also used for amenorrhea, elephantiasis, systemic lupus erythematosus (SLE), tuberculosis, memory loss, and as an aphrodisiac.
Topically, gotu kola is used for skin conditions, including scabies, ulcers, psoriasis, and fungal infections, varicose veins, striae gravidarum, cellulitis, keloids and hypertrophic scarring, and in poultices for snakebite.
Parenterally, gotu kola is used for bladder lesions of schistosomiasis, post-phlebitis ulcers, and scleroderma.
In manufacturing, gotu kola leaf extracts are used in cosmetics.
Must Read: Black Cohosh
Caution:
Orally, gotu kola is usually well tolerated when used in typical doses. However, in some patients it can cause gastrointestinal upset and nausea, widespread pruritus and photosensitivity
Reference:
Natural Medicines Comprehensive Database
Published by Therapeutic Research Faculty
Compiled by the editors of: Prescribers Letter and Pharmacit's Letter