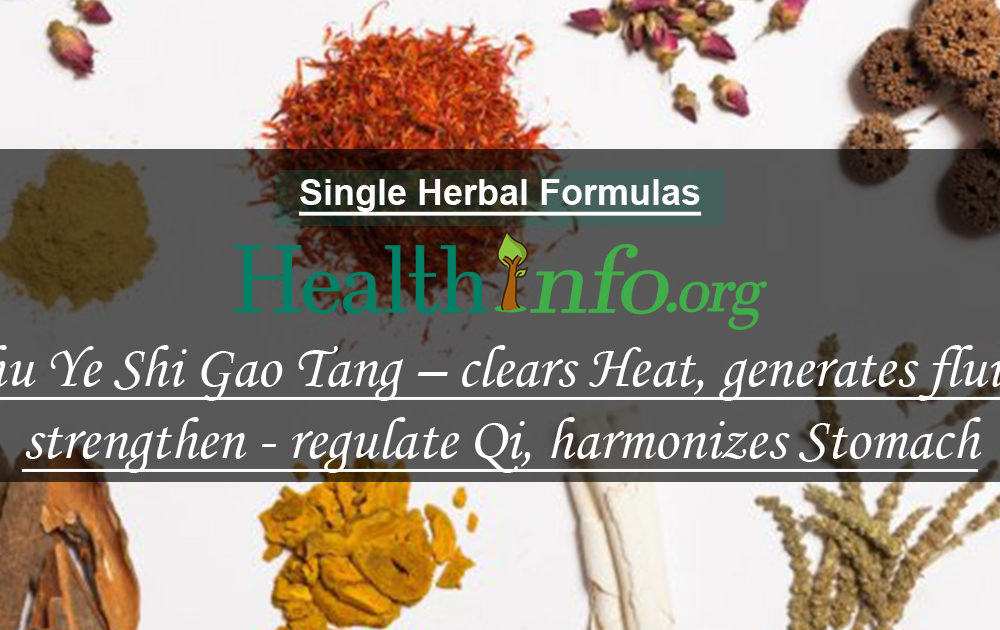 Zhu Ye Shi Gao Tang – Shang Han Lun
Dan Zhu Ye (herba lophatheri gracilis)…9-15g
Shi Gao (gypsum)…30g
Ren Shen (radix ginseng)…6g
Mai Men Dong (tuber ophiopogonis japonici)…9-18g
Ban Xia (rhizoma pinelliae ternatae)…9g
Zhi Gan Cao (honey fried radix glycyrrhizae uralensis)…3-6g
Geng Mi (non-glutinous rice)…12-15g
Indications: lingering fever from febrile disease accompanied by vomiting, irritability and thirst, parched mouth lips and throat, chest distension, red tongue with scanty coat, weak rapid pulse, restlessness, insomnia.
Qi level Heat that is in the Lungs and Stomach long enough injures the fluids. Extreme symptoms are not as apparent as with Bai Hu Tang (above). This formulas treats conditions when the Yin and fluids have been injured after a Warm febrile disease, or Summer Heat damage. This formulas is similar to Bai Hu Tang, but is not as cold, and is more tonifying.
This is reflected in the 2 primary herbs Dan Zhu Ye and Shi Gao, being teamed with the secondary herbs Ren Shen and Mai Men Dong. The primary herbs clear Heat, and the secondary herbs tonify Qi and nourish the Yin/fluids.
Must Read: Hui Yang Jiu Ji Tang – restores severe depletion of Yang, tonifies & regulates Qi, revives pulse